Welcome to Dynoswim! We have a lot of exciting projects on tap. Please consider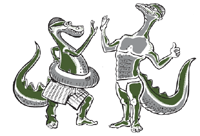 Dynoswim your first source for workouts. The site will be continuously updated until we are bar-none the best source for swimming workouts. Whether you're a coach, a lifelong recreational swimmer, an age-grouper, triathlete, or Masters swimmer, you'll soon learn that we have the workouts to suit your goals and abilities. Please browse the site and give us some feedback on resources you'd like us to provide for you, and don't forget to visit our memorabilia page. There will soon be lots of fun stuff to complement your training.
The beginning...
Dynoswim began back in the Summer of 2002 when Josh and Dean were leaving swim practice one Saturday morning at the Wilton YMCA in Wilton, Connecticut. Dean was searching for various swimming related resources and realized that there wasn't any one particular alternative devoted to the promotion of swimming, all things swimming related, and was available for all people of all swimming levels and abilities. It was also apparent at the time that there really weren't any adequate tools for swimming workouts. A resource available for fitness swimmers and elite level athletes alike, where information was shared by various coaches, and free for all people interested in swimming to share. So, it was a short, simple conversation just like that, when Josh and Dean agreed that together they could one day carve a niche in the swimming community first by providing one of the best resources available for swimming workouts and later by providing a forum for the sharing of ideas and information. Today, Dynoswim continues to grow in ways that hadn't been anticipated.